---
Info/Events/Calendar
FFD is looking for new members - Interested in joining?
Click here
-------> Texting and Driving (1.23min video)-
click here
---
Pictures from "Mock Prom Crash" at OHS - May 2013
Photos courtesy of Mrs. Ken Schneider, Tracee Renee Photography, and Nicole Tiffany McCreary
---
Equipment - 2013 Pierce Tender
The Pierce built truck features a Kenworth chassis T370 with a Cummins 350hp diesel engine .
This new Tender allows better response times in shuttling water to locations that do not have hydrants with the upgrade in horsepower (100+) from our old tanker.
It is 100 percent compliant with all current NFPA (National Fire Protection Administration) standards. This new tender also has electric side mounted portable water
tank racks that allows easier access and setup for our portable water tanks.
To check out all the other current equipment.... click here
---
Fredonia Fire Department/ Northern Ozaukee Ambulance
The Fredonia Fire Department is an 92 year old (est 1923), 100 percent volunteer organization, consisting of 26 state certified firefighters, 19 EMT's, 4 ambulance drivers
(all firefighters are also certified ambulance drivers), and several probationary members. Our current roster is very strong and it shows a strong commitment of the
surrounding community to support our service area and our department.
---

Our Service Area
We currently provide first-due response for Fire and Rescue service to the Village of Fredonia, Town of Fredonia and are obligated to mutually assist many of the
neighboring townships with compliance of the MABAS box alarm system by our department. (District 119)
We are active members in MABAS (Mutual Aid Box Alarm System) Wisconsin, and specified on Box Alarm cards for 3 counties: Ozaukee, Washington, and Sheboygan.
Through MABAS, we are also obligated to provide mutual aid to Milwaukee and Fond du Lac counties should the need exist. Want to find out more about MABAS?
We currently provide EMS service for the Village of Belgium with our ambulance service in addition to the Town and Village of Fredonia. ( Northern Ozaukee Ambulance)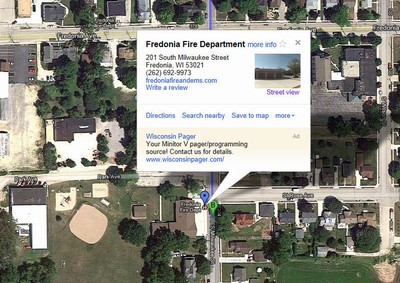 ---
Photos
Check out some more of our current photos in the photo album…
Click here
---
Practice &Training
The Fredonia Fire Department holds its practice / training night, every Tuesday night. Training begins at 7:00pm and usually is complete by 9:00pm
The training schedule is below:
1st Tuesday of the month - Engineer / Operator Training
2nd Tuesday - Monthly Business Meeting
3rd Tuesday - Rescue / EMS training
4th Tuesday - Fire Training
---
Mutual Aid
Firefighting is often a group effort with other neighboring departments to our community - depending on the severity of an incident, many of these departments can be present in the
community to support us, as well as the Fredonia Fire Department traveling to other areas to assist other departments. The Fredonia Fire Department is an active member in
Division 119 of MABAS (Mutual Aid Box Alarm System) and also provides service into Division 111(to the West) and Division 113 (to the North). We encourage you to visit
these sites of the other departments and show support for them as well.
| | | |
| --- | --- | --- |
| | Belgium Fire Department | |
---